Amazon CloudFront Review
Company Overview, Pricing, and Features
FirstSiteGuide is supported by our readers. When you purchase via links on our site we may earn a commission.
Read More
Intro
When you think of Amazon, books and products probably come to mind. But today, Amazon is much more than just an online shopping site. Launched in 2008, Amazon CloudFront is service that's made primarily to be integrated seamlessly with Amazon Web Services (AWS). You can, however, use it as a stand-alone product. So, is it worth the hassle or will you be forced to get the whole package just to use their CDN service?
Starting up
Unlike most CDN providers, Amazon is not focused solely on the CDN, but on much more. Because of this, when starting out you won't be able to sign up just for CloudFront. Instead, you'll have to go through the whole process of signing up for AWS, which takes a few more steps than your usual signup. You'll have to provide the standard information, including the payment method, then you'll have to choose which products you will use.
The AWS Free Tier offers, including CloudFront, are available to new AWS customers. The initial CloudFront package, which includes 50 GB storage and 2,000,000 HTTP and HTTPS requests, is good for 12 months following your sign-up date. After that, you pay as you go.
Setting up
Following the signup, you'll have to search to find CloudFront in the AWS products page. Most of the setup is automated. Step one is to choose a delivery method for your content, which is divided into two options. The first is Web content, which is for static and dynamic content. The second is RTMP, which is for streaming media files. In both instances, you can store your files in the Amazon S3 bucket (which is free storage) but in the Web delivery method, you can store it on any web server.
After you enter your origin domain name, everything else will be filled out automatically. You'll be able to choose what settings and services you prefer to use. This includes Origin SSL protocols and cache behaviour settings, such as viewer protocols policies. Also, you'll still have to manage settings in your hosting account, if you aren't going with the AWS package.
Features
To be honest, if you're a complete beginner, you might find CloudFront challenging, especially if you aren't using the rest of the AWS products. Sure, all the standard CDN features are offered, but they work best when you also use their hosting and/or the rest of the products. It's not impossible to use it even if your website is hosted elsewhere. You'll just have to work a little harder at it.
You can store files on servers, create a register, use the distribution domain name, and push, pull and purge. But after you learn your way around, you'll see that their interface is simple and their features cover the majority of your needs. Add to that solid analytics and the fact that they have 37 PoPs on all continents, and they've got you covered.
Testing it out
Without CloudFront support, the longest it took our website to load all content and files (5.53KB) in the browser was 14.98 seconds, which is quite bad. It took 122ms to establish a connection to the web server and 1.10 seconds to download all the data.
The best time with CloudFront was 1.94 seconds to load all content and files. It took 9ms to establish a connection to the server and 1.02 seconds to download all the data.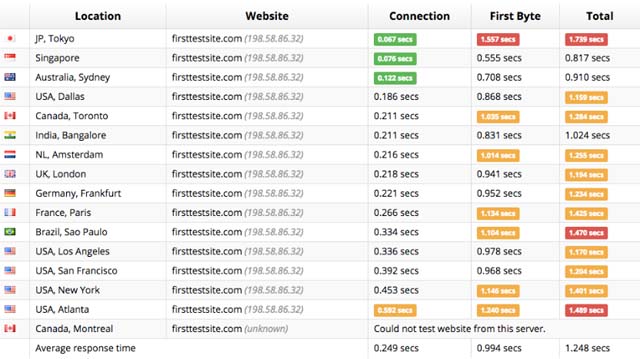 Without CloudFront, the first byte load time took, on average, about 0.99 seconds. The average load time was 7 seconds. The worst load time was from Beijing, China when it took 32.02 seconds.
With CloudFront, on average it took 0.03 seconds for the first-byte response, while average loading time was 1.11 seconds. This sounds pretty good, but compared to the competition, it's one of the slowest loading times. The worst loading time with CloudFront was also from Beijing, China, when it took 29.7 seconds. We tested this with approximately 60 simultaneous requests.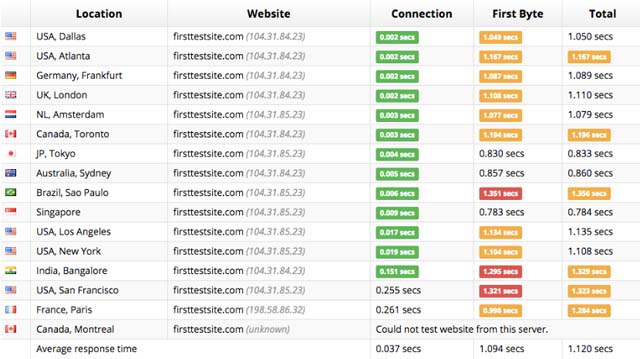 Help and support
While most CloudFront features will have you pretty well covered, support is where they fall flat. In fact, there's no specialized support for CloudFront, but you can use their AWS support center. There you can send tickets to their support team, which is not as fast as the competition's, and use their guides and forums.
But if you really need help, you'll have to pay for it. That's right, AWS has support plans that are tiered by price. In addition to Basic, which is limited to ticketing, there are three additional upgrades. Developer, Business and Enterprise plans will cost, respectively, $29, $100 and a hefty $15,000 a month. Each option will give you a different level of support, such as 24/7 access to email and chat support. Phone support is available with Business and Enterprise plans. So unless you're willing to reach into your pocket to pay extra for support, you'll be on your own.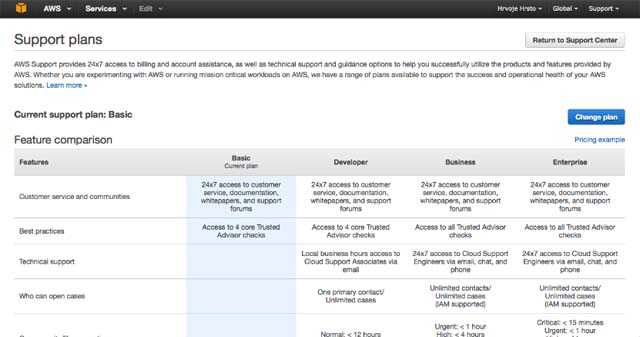 Pricing
As mentioned previously, CloudFront is free for the first year as part of the AWS Free Usage Tier. You'll get 50GB storage and 2,000,000 HTTP and HTTPS requests each month. After the first year's up, you'll pay as you go. Pricing varies a lot, depending on what type of data transfer your customers use and where they're located.
Regional data transfer to the Internet is as follows for the first 10TB; prices get lower per more data transfer.
US/Canada/EU$0.085
APEC$0.140
India$0.170
South America$0.250
Pricing for regional data transfer out to origin per GB is:
US/Canada/EU$0.020
Asia (including India)$0.060
Australia$0.100
South America$0.125
There are also prices per each request; they're divided into HTTP and HTTPS per 10,000 requests.
North America$0.0075/HTTP$0.0100/HTPPS
EU/APEC$0.0090/HTTP$0.0120/HTPPS
South America$0.0260/HTTP$0.0220/HTPPS
Pros
stable response throughout our testing
budget-friendly
50GB free storage
Cons
support is minimal or requires additional payment
slower than competitors
aimed at developers, not beginners
Conclusion
Amazon CloudFront is best when it's used in conjunction with Amazon Web Services. That doesn't mean you can't use it if you your website's hosted elsewhere. However, transition and usage would not be seamless. Even without it, our experience was positive and the speed of our website was improved.
There were some bumps and bruises, like getting used to the general AWS console (which is too crowded if you just want to use CloudFront) or the total disappointment of paid support. But performance was surprisingly stable and relatively fast. You won't need to adjust for sudden spikes in traffic, which is a plus, and the free storage is always music to our ears. It is pay-as you-go with no commitment, and if you include the Free Usage Tier, there's really no reason for you not to test it out if you're interested. Overall, it falls in the lower spectrum of CDN products. And if you are a beginner and you aren't using the rest of the AWS products, CloudFront might not be a good match for you.