KeyCDN Review
Company Overview, Pricing, and Features
FirstSiteGuide is supported by our readers. When you purchase via links on our site we may earn a commission.
Read More
Intro
KeyCDN was launched in 2012 in Switzerland. It has become one of the more popular European CDN providers, not to mention one of the least expensive. They have developed their solutions in-house, so they're not relying on any of the reselling or licenced solutions. So, does this mean you just stumbled upon one of those "the more you pay, the more you get" solutions where you get very little or is there fire under that smoke?
Starting up
Have no fear, if you want to test KeyCDN, they offer a 30-day free trial and give you 10 credits, which is equal to 250GB of traffic. To create your profile, all you need to provide is a name, email and password. Next, you'll be sent a verification email with a link to click on to confirm your email address—and you're signed up.
And that's about it. There's no introduction or welcome, and no directions on how to set up your CDN, which is odd. They do provide a link in the email that will get you to a starting point; we advise you to click on it. What happens if you have more traffic than 250GB in the free trial? Simply put, they will stop content delivery without any notification. So, to keep up the delivery, update your paying method, which can be credit card or PayPal
Setting up
There are no helpful wizard-like guides that will assist you in setting up your CDN. Instead, you have to do all of it manually by reading their three-step guide. While the first step, creating a zone is not a problem, checking your CDN asset might be troublesome for those aren't tech savvy. This is a hurdle that drives away beginners at similar CDN providers. However, when you get past it, there's simple CMS integration via plug-in and you're ready to go. It's definitively not the quickest or most user-friendly setup.
Features
KeyCDN has 25 current PoPs with six new PoPs in the works. One of the new PoPs will be in Cape Town, which will give them a presence on all continents. They are also CMS friendly and offer tutorials for WordPress, Drupal, Joomla, Magento, Typo3, Github pages, OpenCart, PrestaShop and others.
There are push and pull zones, instant purge, real-time stats and an easy method for creating dedicated FTP users for specific push zone. You get a free SSL certificate, origin shield, secure token, a great API and real-time analytics. If we really had to nitpick, we could say that the analytics could use some simplification, because not everyone will understand them and be able to use their resources accordingly.
Testing it out
Without the KeyCDN support, the longest it took for our website to load all content and files (5.53KB) in the browser was 16.69 seconds, which spells disaster. It took 606ms to establish a connection to the web server and 2.41 seconds to download all the data. The best time with KeyCDN was 1.92 seconds to load all content and files; it took 25ms to establish a connection to the server and 0.41 seconds to download all the data.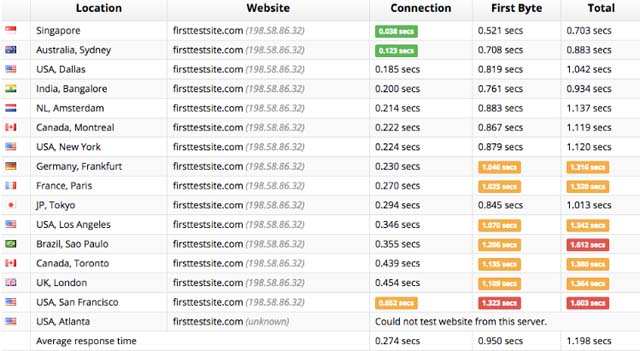 Without KeyCDN, first byte and load times, on average, took about 0.97 seconds. On average, load time was 6.9 seconds. The worst loading time was from Beijing, China which took 35.53 seconds. With the KeyCDN, on average, it took 0.42 seconds for the first-byte response. One response from Sao Paolo, Brazil took 15.81 seconds. The average loading time was 0.81 seconds, but there were some occasional inconsistencies. The worst loading time was also from Beijing, China, when it took 29.8 seconds. We ran approximately 60 simultaneous requests when testing the service.
Help and support
Unlike the setup, the rest of the support structure is short, simple and effective. You have tutorials, a knowledge base and ticketing system. Their team is available 24/7, which is great, but there's no chat support. However, they do answer in a timely manner and they are more than helpful.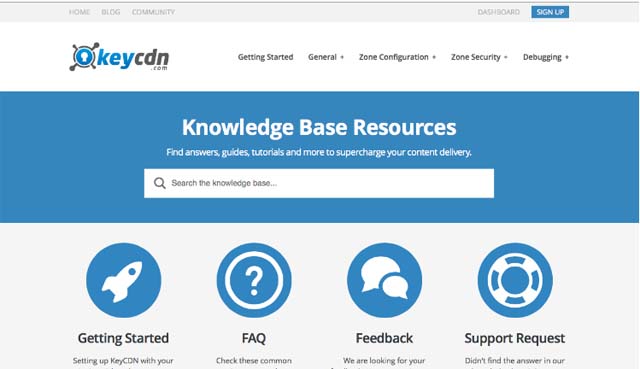 Pricing
With pay as you go, there are slight variations in how much you pay after you hit a certain traffic level.
North America/EU:
First 10TB – $0.04
Up to 40TB – $0.036
Up to 100TB – $0.032
Up to 350TB – $0.028
Up to 500TB – $0.02
Up to 2PB – $0.01
Rest of the World:
$0.04 for all traffic
For traffic over 3PB, there is no public pricing; their support can get you that information. Additionally, the first five zones are included; additional zones cost $1 per month
Pros
one of the cheapest CDNs
30-day free trial
extensive CMS support
Cons
there could be more security features
analytics are sometimes confusing
non-streamed setup process
Conclusion
KeyCDN is like a siren call. It has a 30-day free trial with 250GB of free traffic. After that, it offers one of the cheapest pay-as-you-go pricing out there. However, if you're a beginner, you may fail to incorporate your CDN properly, because the setup is not beginner friendly. That's the first and greatest obstacle, but once you are over it, the ride is smooth. You'll have all the basics and some advanced features. If you're comfortable tackling the CDN asset setup, there's really no reason for you not to give KeyCDN a try. Ok, the analytics might be somewhat confusing and there could be some security features, but when it comes to performance, KeyCDN is one of the top players. This is especially great in view of their value pricing.